It's the smiling on the package
It's the faces in the sand
It's the thought that moves you upwards
Embracing you with two hands
We had a great day yesterday. By Jimmyboy's definition, every great day starts with Hollandaise sauce, and yesterday was not a disappointment in that respect.
We breakfasted at my very favorite breakfast spot in Bozeman, the Nova Cafe. If you come visit, you will eat there. It's our go-to breakfast joint. (I had the huevos rancheros; Jimmy had Eggs Argyle, which is like Eggs Benedict, except with salmon.)
We drove to Big Sky, taking turns putting on different music to rock out the ride.
We made some plans on the chairlift.
Spring was in full effect. The temperature was in the mid-40's, and the snow was slushy.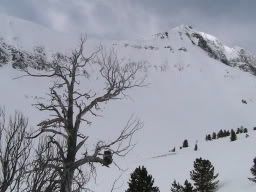 I took Jimmy up the tram and he acquitted himself well, and got his groove on.
We had some fun in the bumps.
I fell down.
We played around on the back side of the mountain and I showed Jimmy a few of my favorite stashes.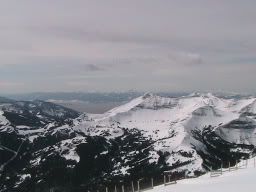 Later on we had dinner with some people from the Dam, who unexpectedly visited. We ate at the Sweet Pea Cafe. Jimmy had a bison ribeye in a cherry demi-glace; I had chicken cordon bleu; India had scallops; Dr. Jack had seared ahi; Kay had pork tenderloin. Everyone reported that their food was excellent, as is the norm at the Pea.
We're on very friendly terms with the owners and employees of the Pea, and I was messing around with the chef by asking for substitutions, and generally acting like a difficult patron... something that is known to get under the chef's skin.
Following our dinner, the chef and sous chef surprised us with a free dessert- a beautiful crepe concoction with strawberries marinated in cointreau, julienned mangoes, served over strawberry-vanilla ice cream...
And, I got a real
special
treat inside my crepe- anchovies, peanut butter, some garlic oil, and other unsavory treats- proving that revenge is indeed best served cold, with julienne mangoes.
We all had a pretty good yuk over that one... the chef and sous chef were peering through this little window like schoolboys, waiting to see my reaction before they came out and replaced my dessert.
Well, that's enough for now.
It snowed last night, but I think we're still heading to Yellowstone. McC (the guy who took me up Bridger Bowl last week) lent us a sweet spotting scope and a tripod.
Comment overheard this morning: Jon Bon Jovi needs to stop trying so hard. He is starting to look like a woman.