Been away so long I hardly knew the place
Gee, it's good to be back home
New post!
Upon request of my friend, Sherry, here is one of Stanette's recipies:
This involves Thanksgiving leftovers- two parts; turkey and mashed potatoes.
Shred some turkey, use dark meat, since most people don't like it, and you're not gonna care with this recipie.
Take a saucepan, cut up some green onions and put in the saucepan with some olive oil. Cook it on low and put the meat on top. Use a little white wine to de-glaze the pan. Pour your BBQ sauce of choice over the top, generously, and let it simmer while you go to part two.
Take some spinach, a couple cups, and puree it in the food processor. Chop up some more green onions. Now, take two cups of your leftover mashed potatoes (that's what we had... she said you can improvise with this recipie, based on how much you have, and you cannot go wrong), and mix everything together.
Add a beaten egg and a little milk to keep it together.
Heat some butter in a frying pan, and form the mashed po-po/spinach mix into patties. If the mashed po-po/spinach mix is too watery, add some crushed crackers.
Fry them in the butter until the patties are solid on the bottom.
Flip 'em until they act like hash browns.
Put the fried mashed po-po/spinach patties on the plate and spoon the barbecue-turkey concoction over the top.
Take a bite and drop to your knees and thank baby jesus for the bounty you have recieved.
Tommorow- we will attack the stuffing leftovers to create a savory meatloaf.
--
--
It's been a week since I have posted. Sorry for that, but it's been an eventful week.
The whole fam-damily was here for Thanksgiving, with a little side-dish of some scary drama. (I am not going to dish the scary drama, since it isn't mine to share... don't ask.)
My mom, dad, sisters, Liz & Molly, bro-in-law, Pat, nieces, Lucy & Katie, and my nephew, Joey, all came to visit. There were ten of us in this not-so-old house.
It was pretty cool.
This is Katie, in front of the gong, posing with her brother's jet fighter: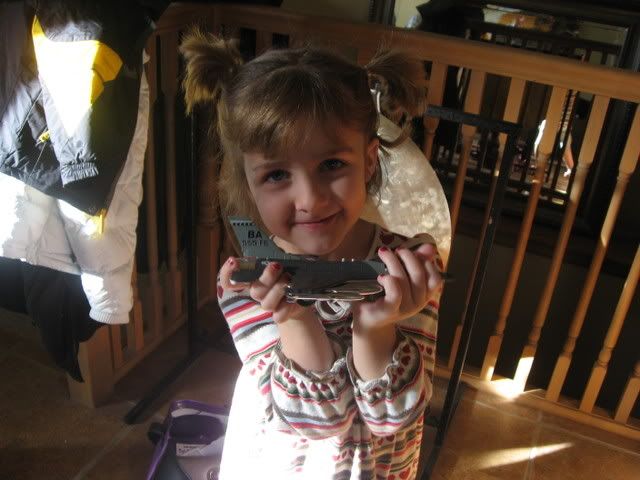 This is Lucy and sister, Liz: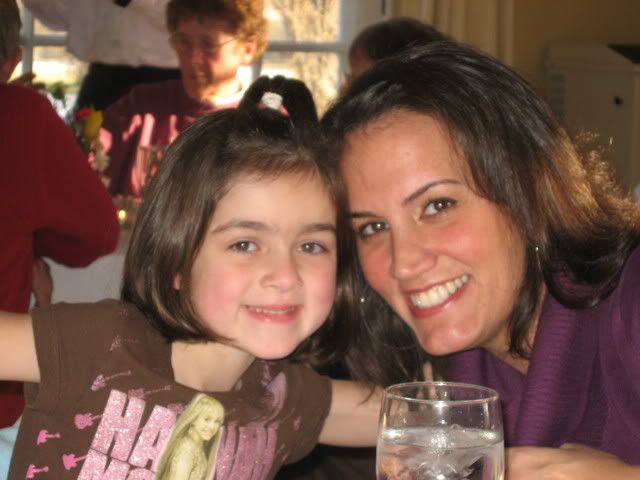 This is Molly with Lucy and Joe: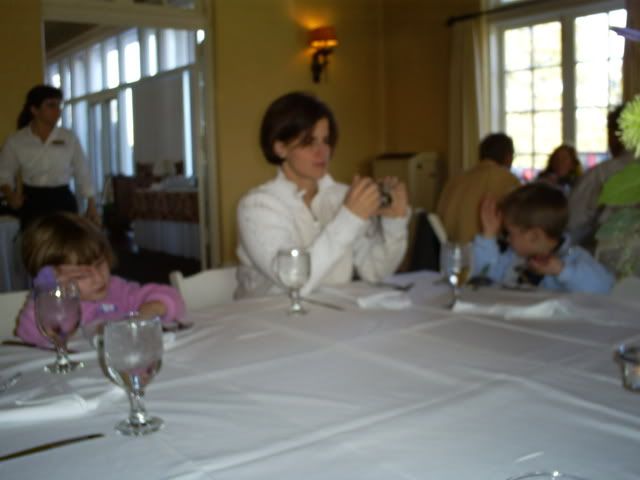 And this is Joe-joe, my dad's (and my) namesake: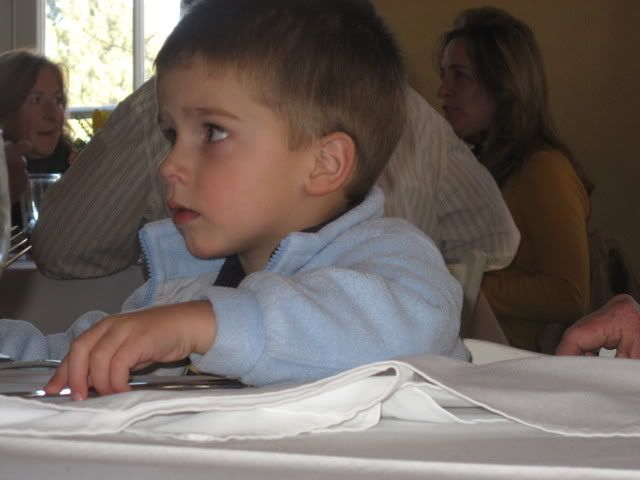 Handsome little bugger, isn't he?
Charming, too. Just like his uncle.
Everyone showed up Wednesday. Liz and I played dominoes til 2 a.m., which was great... until the children woke up at a very restrained 7 a.m. I forgot that a 7 year old, 5 year old and a 3 year old operate on a different timetable/blood sugar level/general excitement level than me... someone, who if it can be summed up in a word is a a simple-self-indulgent -playing-dominoes-til-2 a.m.-irresponsible-perpetual-adolescent-39-year-old- snowboarder-with-a-drum-set-smokin-hot-girlfriend-no-kids-and-a-stupid-guitar-collection-kind-of-guy.
That's one word, right?
Anyway, when I go to bed at 2, I generally don't get up at 7.
But I ain't complaining, because it I had a ton of fun.
On Thanksgiving, we went to the Gallatin Gateway Inn.
--__
Let's pause here for a fresh post.