Monday, back from the dead, I'm letting it go, back for another one...
Today was a beautiful friggin day. Mid-80's, not a cloud in the sky. I woke up obscenely early, and went for a run out in the country.
I saw a huge owl soaring over a field, with a little baby owl, fluttering along behind, trying to find its wings. I also saw a complete nuclear (pronounced "nuke-you-ler") family of ducks, complete with dad, mom, and a string of eight little baby ducks, paddling along in a pond. I was unfamiliar with the species; the male had blue on his wings.
After the run, we got the master bedroom into a more evolved state. Things are starting to shape up around here.
India and I went to the Co-op for lunch. That place is amazing. It has an outstanding deli, salad & soup bar, and on the second floor, there is a cool, indoor-outdoor coffee shop. For those of you familiar with Willy Street in Madison, the Bozeman Co-op absolutely blows the doors off the Willy Street Co-op. It is always a plus when a place refrains from employing sanctimonious junkies to work the registers and cast judgment upon your purchases, lifestyle and philosophical approach to life.
Here is the Co-Op:
In the afternoon, I took my mom for a cruise down Hwy 191 into the Gallatin River Canyon. Here is the Gallatin River, which is one of several blue-ribbon trout streams in the area: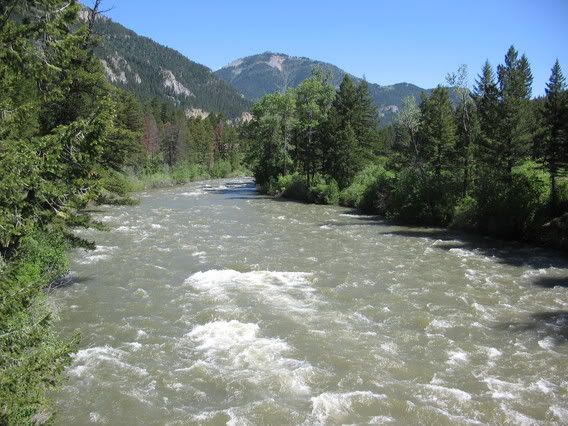 There were a ton of rafters and kayakers on the Gallatin. Note to self: buy a kayak.
Highway 191 connects Bozeman with Big Sky and West Yellowstone. It travels between two mountain ranges: to the west is the Madison range, which includes the Lee Metcalf Wilderness and the Spanish Peaks; to the east is the Gallatin Range, which includes the Hyalite Drainage. In March of 2004, I rolled a brand new Chevy Blazer on 191, while attempting to go snowboarding at Big Sky.
Here is Big Sky, taken from along the golf course.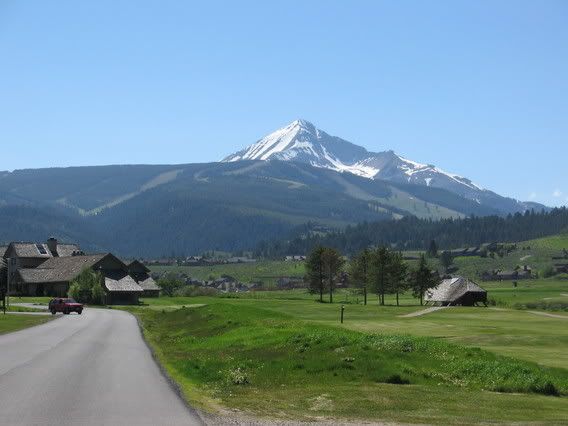 That peak is called Lone Mountain, and it is over 11,000 feet. You can't see it in this photo, but a tram goes all the way to the very tippy-top of that peak, servicing some of the absolute filthiest in-bounds terrain I have ever ridden. Absolutely McNasty. I'll be sure to post some photos from up there this winter. She will be mine. Oh yes, she will be mine.
Here is my mom & me, taken on a bridge over the Gallatin:
We cruised all the way down to West Yellowstone, through some gorgeous terrain. Here is a view, with and without the devastatingly handsome example of the local wildlife: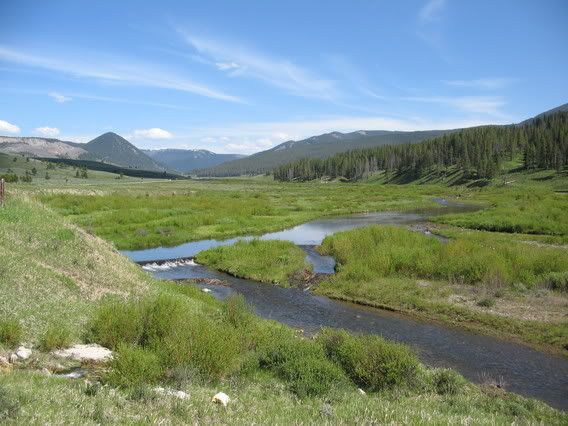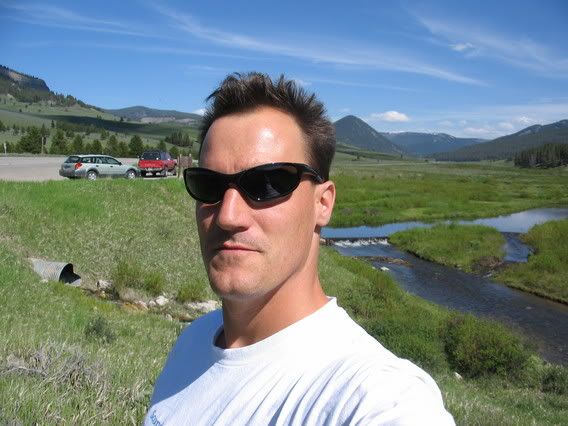 On the way back, we had dinner on the back deck of a "had-to-be-there" place called the Half Moon Saloon, overlooking the river, a horse pasture and a mountain vista, as you can see: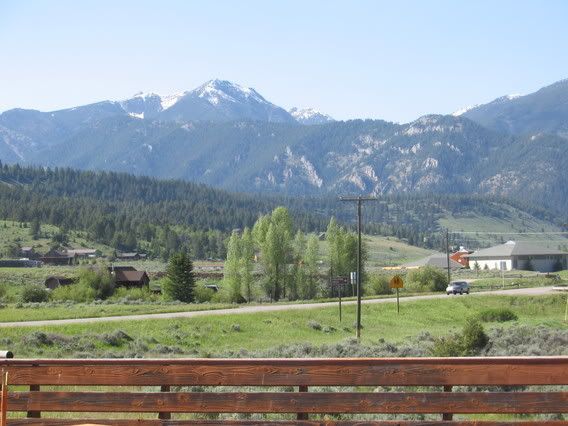 I may never return to a regular job of any kind. This was the best Monday I can remember, excluding vacations.