On a mountain range
I'm Dr. Strange
For you
I have been listening to a lot of T. Rex since I bought the gong. You know, just followed "Bang a Gong" down the rabbit-hole.
(Did I mention that I bought a gong?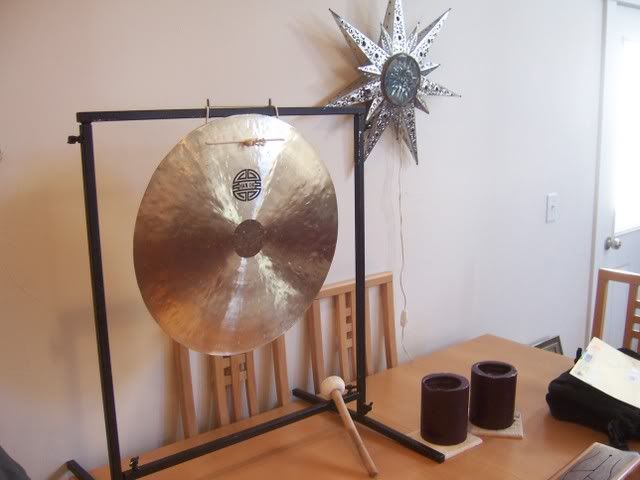 That's right. A fucking gong.
And, I tell you, now I wonder how I lived without it.
It makes for a wonderful punctuation mark to whatever you have to say. It really conveys the declarative, "
I have spoken
" point that I try to get across at the end of a sentence.
In fact, I am looking into picking up one for the car and one I can just carry around. I think it would be handy for getting the attention of that waitress who spends too much time chatting with other tables when I want the check.
I'm gonna pay a college kid to carrry it and follow me around, like P-Diddy paid that guy to follow him around with an umbrellla.
Nothing really says
I have arrived
like a servant and a mobile gong.)
Where was I?
Oh yeah, T. Rex.
Good band. For you kids, spend 99 cents, or don't, and download the song
Mambo Sun
. If you don't like it, I'll give you your money back, or not. If you do like it, then dig deeper, Jeepsters and Planet Queens.
The real reason I wrote though, was this guy at the gym today.
He was about 21-23 years old, maybe 5'10", blond buzz-cut, and an earring in the top of his ear.
He was getting dressed in the locker room when I walked in.
He had "
C A N C U N
" tattooed across his upper chest in large, maybe 3" stylized letters.
((I amn not making this up.))
So much went through my head. Too much.
I wanted to throw him a huge thumbs-up, slowly nod and say, "Dude. Cancun."
Holy douchebag, Batman.
Labels: gongs, retarded tattoos, T. Rex