Welcome, my friend.
Welcome to the Machine.
Well, T-Rex and Alison had a bouncing baby boy today. Vaughn Anthony. Somewhere around 8 pounds, ten fingers, ten toes, a head of dark hair and blue eyes.
He joins his sister, Birdy...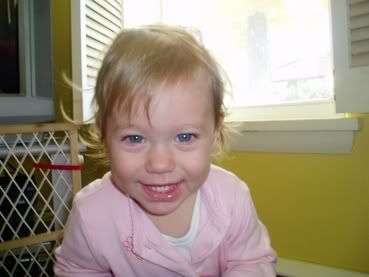 and brother, JM. I don't have a picture on my computer of JM... and that is something we shall have to remedy now, innit?
I am happy for them, and even more happy that I am returning home to visit them.
Welcome to the world, little feller.
I look forward to watching you grow up.
===
===
A couple things:
I have gotten a bunch of positive feedback regarding the
post of my little adventure to the DMV.
I am glad you enjoyed it, and even more glad that you took the time to tell me.
It was fun to write, and believe it or not, I didn't even really get pissed during the whole ordeal. I really couldn't believe it was happening. I was detached enough to be amused... and sort of relishing the prospect of writing about it.
Nevertheless, thanks to those of you who dropped me a line or called about it.
In that same vein, The Dude Abides has seen an increase in traffic over the last month. I am not really sure why. There are now about 130 unique visitors per day.
(Of course, some of those visitors are researching the hot topic of daughters and black dudes, or the guy today looking for "big boner jokes and pictures." Because big boners + jokes + pictures... damn, it doesn't get any better than that.)
Nevertheless, there are a good number of people who stop by here on a daily basis for a few minutes to waste a portion their workdays.
Thanks. It's one thing to write things for my own enjoyment, which I definitely do. But it is a whole 'nother thing (
whole 'nother
should be in the dictionary) to know that other people are reading it and enjoying it.
Kinda makes me feel good. Knowin' that the Dude is out there, abiding for all us sinners.

I like your style, Dude.