You're schemin' on a thing that's a mirage
I'm trying to tell you now, it's a sabotage.
It is getting cold. I went running this morning and my hands froze. It probably didn't get much above 45.
The peaks are snow-covered, and tempting.
After the run, we went out to a late breakfast and had some righteous huevos rancheros, which, as you know, is the Gold Standard for Breakfast.
We stopped by the Co-op for some coffee and a few groceries for the week. That place is a social hub.
Then I took the dogs out for a walk. Barney was in fine form.
Picture of Barney from this summer: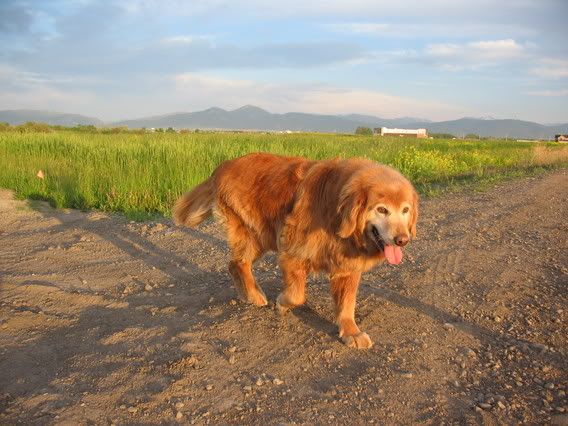 My task for the day was to water the plants over at Bells' house. They are off doing the forest service thing in Nevada. He purposely left an electric guitar and amp sitting out next to the plants, so I encouraged the plants to grow with some poorly-played rawk.
I spent the rest of the day reading
Scar Tissue
, Anthony Kiedis' autobiography. It is hard to believe that he could get it together enough to record albums and tour, given the superhighway of cocaine and heroin he was injecting into his veins on a daily basis. There is no reason that guy should be alive.
I spent a little time researching where Potosi Hot Springs are located. To get there, we'll go through a bona fide ghost town. I think we'll go there Saturday. Maybe Friday. It will be cool to wander through a ghost town, and hike up a trail to soak in a natural hot spring while it is snowy & chilly. I'll be sure to take pictures.
India is at a Halloween party. I didn't feel like going. I have the fire kicking out the heat while I chill with the animals through a Tarantino double feature- Kill Bill 2, which just finished, and Jackie Brown.
Whew, I'm exhausted. What a productive day. All that,
plus
I set the clocks back. It'll be days before I recover from the exertion.