Fall into those single file lines
like army ants
Fall into those single file lines
and complete the plan
It was fuh-reezing cold yesterday. All these pictures were taken on one ride up the chair. I just didn't want to take off my gloves unless I had to...
On the drive up to Big Sky, we saw a pair of bald eagles perched in a tree by the side of the road. They were sitting right next to each other, imperiously surveying the mouth of Gallatin Canyon for small mammals to eat. That kind of thing gets me fired up.
The new fitness routine is paying dividends on the slopes. Eyes intake the data; brain processes data and emits command; legs execute. It could be psychological, but it feels like I have more explosion and a quicker execution time.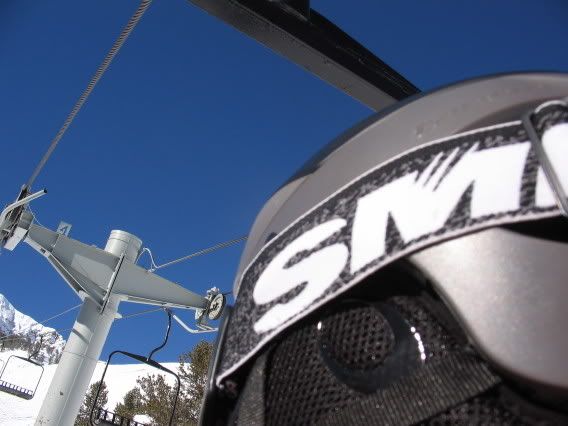 There were fresh tracks to be had, but you had to look for them and be willing to ride some hazardous lines. I was riding in some trees and I got caught on a cliff. There was no way through but down... an approximate 6 foot drop, a quick bounce on a "snow" patch, and then another 6 foot drop.
I made it, but I chewed up my board a little on the "snow" patch. By "snow," I mean big rocks covered by about two inches of snow.
That doesn't really freak me out; actually, it made me giggle. I was exhilarated to have landed such a technical maneuver. Better than coffee, I tell you.
Perhaps the knowledge that I have a new board awaiting a boot-binding rig makes me a little more comfortable with beating up my old one.
I doubt I will feel so sanguine about rock-hopping on the new deck.
As for Martin Luther King Day, well... we did hear some hip hop booming from some college kid's car in the parking lot. I believe it was Big Daddy Kane, so at least the kid was going for a little old school flava.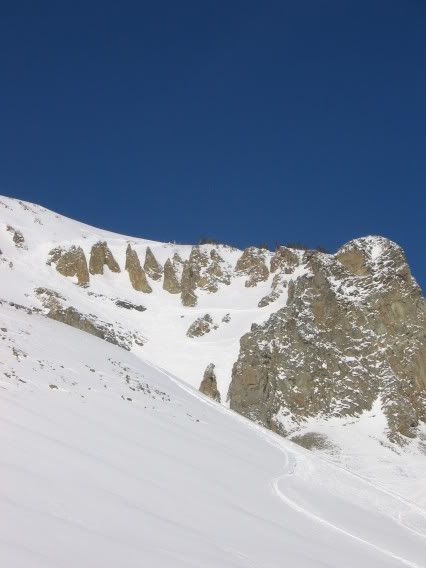 Anybody else want to bitch-slap the President on 24? What a weenie. I haven't really watched any television besides movies and the Daily Show/Colbert Report since we moved here... but ten minutes into the new season of 24 and I was hooked again. Still the best show on t.v.
Today is a brand new day. Snow showers are expected for the next five days. Hip hop hooray! Ho.
On Friday evening, India and I are going to a snowshoe shuffle/howl at the moon benefit at Moonlight Basin. It is for the Gallatin Valley Animal Shelter, a cause that is near and dear. It is a nighttime snowshoe hike, then there is food & drink & live music in a swanky lodge at Moonlight. I am looking forward to it.
Wisconsin has been the land winter forgot for the last few years. My friends and family report that it is brown and shitty and sloppy. I hope you all get some proper winter weather to enjoy. I know I am a winter-loving fool, but still... as long as it
is
winter, the lakes may as well be frozen and there should be snow on the ground.
We have seen some warm spells here in Bozeman recently. There was a stretch in the high 40's for a while, but all the snow didn't melt and more fell on top of it. And that is mission-critical to the Turd Location Phase of my duties in Operation Dogshit Collection.
And in case all this snowboarding talk is boring you, I will leave you with a couple pictures of the Cutest Cat in the World.
It's OK. You can admit it. She is like the sun. You can't gaze directly at her for too long. This picture is a little blurry because her white-hot cuteness began to melt the camera.