The sun is up, the sky is blue
It's beautiful, and so are you
Dear Prudence, won't you come out to play?
This is from today's Bozeman Daily Chronicle, including the photo:
By DANIEL PERSON Chronicle Staff Writer
Today's the first day of summer. Grab your ski boots.
A cold, snowy spring has area backcountry skiers searching their memory banks for a better "third-season" in the mountains.
"This month had the best June powder that I've had in my life, and I've had a lot of Junes," Doug Elson said, as he geared up to hike Saddle Peak Thursday morning. "And that's not hyperbole."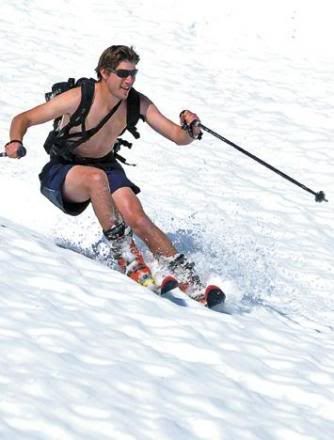 That got an "Amen" from Kevin Wiesner, owner of PhD Skis, a local ski shop.
"I don't think I've seen it like this, this late in the year, and I've been skiing there since 1963," he said.
Elson and Ken McKenna didn't waste any time after parking at the gate below Bridger's Deer Park Chalet. They were headed for Saddle Peak, which accents the southern end of Bridger Bowl's famous ridge.
They set out with skis on their backs, but it wasn't long before they were clicked into their bindings, skinning up Pierre's Knob towards the summit, 9,100 feet above sea level.
Bridger Bowl had already extended its winter season to April 13, and by that warm Sunday mountain managers had recorded 397 inches falling over the season. That's almost double the 215 inches that had fallen by the end of the season in 2007.
But just because the lifts stopped running didn't mean the snow had stopped falling.
Michael Gill, Bridger's assistant marketing director, said one skier measured 33 inches of fresh powder last week. In late May, a month and a half after the lifts had closed, one mountain employee measured an 88-inch base on the upper mountain, a base some ski hills in Montana would be happy to see in February.
On Thursday, snow was still plentiful on the mountain. A skier could stay clicked into his or her bindings from the ridge to a few hundred yards from the base of Pierre's Knob lift.
While skiing in the summer months is not rare in Montana, the fact that so much of Bridger Bowl is still ski-able is a good omen for those who hate to see winter go, McKenna said.
Last year, skiers ditched the bowl at the start of June, he said. But this year, the snow has just begun to melt.
McKenna, who skis in the area several times a week, said he and others were skiing March-style powder last week, and this week just started to see the "corn-cycle" set in. That's skier- and snowboarder-slang for the freezing and melting that snow goes through when days get hot, but nights still see freezing temperatures. If you hit the snow right in the morning, it's like skiing through corn.
"This will go into August," McKenna said.
Like winter backcountry skiing, summer skiing has its risks n namely wet slides. When the snow heats up in the day, it becomes dense and is liable to break off in layers. While it's unlikely to get buried by summer snow, the slides are powerful enough to pull skiers off a cliff or throw them into a tree.
"They're bad," Wiesner said. "It's such heavy snow."
Wiesner said getting onto the mountain early is vital to avoid the slides, before the sun has a chance to cause any mischief. How early? "Start up at 3 or 4 in the morning," he said.
Indeed, summer skiing takes dedication. Far more time is spent sucking air on the ascent than on the descent. The sun is hot, the snow is deep.
But while many choose to hang the skis up for the season, McKenna, with a grin, offered this pun: "Summer skiing, some aren't."
--
--
I actually know Ken McKenna.
It's funny, while those guys were skiing on that side of the Bridgers, I was on this side of the Bridgers, sitting outside at a tall table in 75 degree weather at the Riverside Country Club, having lunch and an iced tea with my friend Zach, watching folks hit balls at the driving range, and enjoying the kids, laughing, running around and splashing in the pool. Zach is the guy from the snowmobile pictures a few weeks back. Nice country club, by the way. I had never been there.
He was trying to convince me to resume golfing, a sport I quit four years ago and to which I haven't returned, because there are just too damn many fun things to do here in Bozeman.
I had an
epic
ski season, went kayaking last weekend, fishing and snowmobiling a few weeks ago, and hiking season is upon us. And not just any old hiking... there is the oldest and arguably most famous national park right in our backyard.
I honestly cannot understand why people choose to live and work in places like New York City, Philadelphia, Miami (wait ... O.K., I can understand Miami), Las Vegas, Los Angeles or any big city.
(And please, by all means,
stay there
. Um, they, uh, shut the door here right after I moved a few years ago. Nothing to see here, move along, move along.)
I love going to those places for a weekend, but I'll take mountains, rivers, powder days, eagle's nests, forests, petrified trees, geysers, caves, grizzly bears, big skies, open space, wildflowers and sunsets that look like the 4th of July
any day
, over gridlock, high rises with people piled on top of people piled on top of people, grates over windows, triple locked doors, hour-plus commutes, honking horns, steaming sewer grates, the smelll of piss and hot garbage, and, oh yeah, "culture," any damn day of the week.
Oh, wait... there is a drawback, though.
That's right, crime.
As proof, I present to you today's police report, again from the Bozeman Daily Chronicle:
* A "mean-looking" dog tied up in front of a coffee shop on Haggerty Lane at 6:14 a.m. was gone when police arrived.
* A woman reported finding a used condom just inside the front door of her apartment on North Grand Avenue at 11:09 a.m.
* A woman was reported roller skating in the middle of North 19th Avenue at 1:20 p.m
* Some kids were found by an employee in a back room at a motel on North Seventh Avenue at 4:05 p.m. The kids "flipped him the bird and used some choice language towards him and left."
* A resident of South 13th Avenue said someone keeps hitting golf balls into his yard.
Just another Thursday on the mean streets of Bozeman. I am glad I had four years in Boston and four years in South Central L.A. to toughen me up and teach me the street smarts I need to deal with this, yo. Not to mention all the hard livin' I had, growin' up in the B.D.C. That's right, The Dam. Represent. School of hard knock, fo' real.
Happy Friday. If the calendar year were compressed into one week, Friday would undoubtedly be Christmas Day. From 5 p.m., Friday until 8 a.m., Monday, you have 61 hours to ride your machine with the wind in your handlebar mustache without bein' hassled by The Man. No more cover sheets for the T.P.S. reports. No more staring at the clock from 9:45 until noon, waiting for that one blissful, pathetic hour at lunch. No more spending your life as a cog in the Machine. No more living in the Matrix.
Take the red pill and see how far the rabbit hole goes. You've got 61 hours. 61 hours.
What are you going to do?
What are you going to do?
It's sunny. It's beautiful. I hope my peeps in Wisconsin and the Dam are drying out and the waters are coming down.
Speaking of water... Here is a really interesting blog that my friend, "Ashton" forwarded to me. His buddy built a pontoon/houseboat/tent-boat called the "Big Getter," and he is floating down the Mighty, Mighty Mississippi, all the way from Northern Wisconsin to New Orleans.

That is some serious Huck Finn shit right there, and I must admit, I have dreamed of doing that for years (and so has Dude Abides reader, guest poster and occasional character, "Jimmy") but never had the balls or the time.

Check it out, poke through the archives and send him some love. He's already in Illinois. Livin' the dream.