Like Pilate, I have a dog
I went to Big Sky yesterday for the last time this season. The lifts are open today, but conditions are going to be shitty- cold, cloudy, maybe rain in Bozeman- which means frozen, crusty, concussion-rendering snow. So, I am not going.
But yesterday was a glorious, sunny day.
I was only there for a few hours, but I was on a mission.
A mission to drop into some chutes, while they held onto the creamed corn snow.
I rode Challenger, and hiked up the A to Z chutes.
Here is a pretty good picture of the A to Z's from yesterday.
Here are some older pics from a previous adventure in those chutes.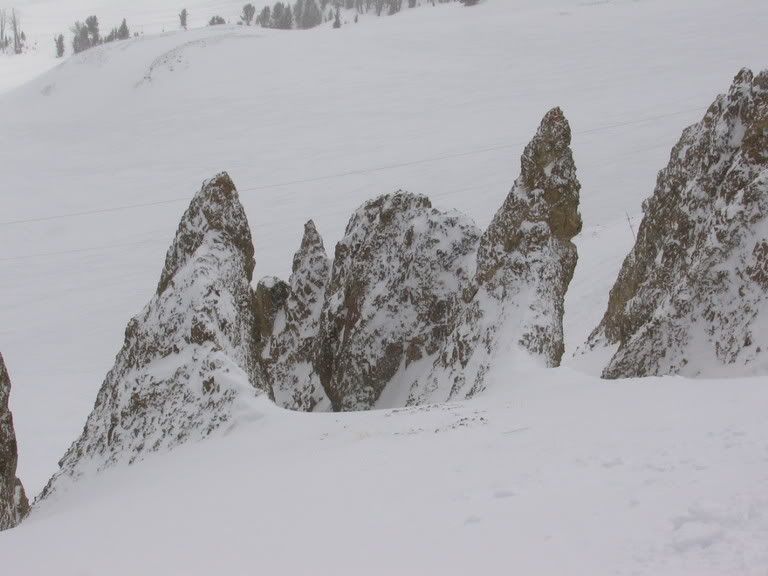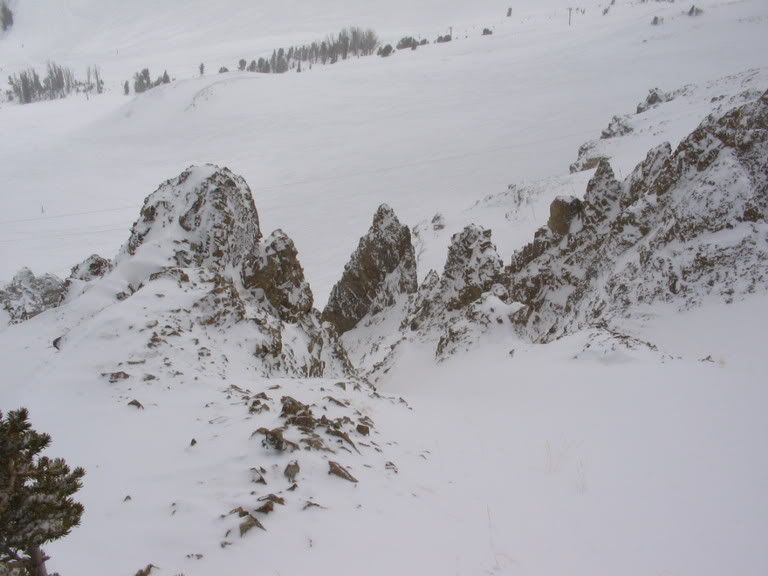 It's really freaking steep and technical in there, plus I wanted to enjoy it for myself, which means actually riding it, rather than stopping to take pictures, hence the old pictures. Like I said, I was on a mission.
I did a couple of those, then I dropped into something I think is called Devil's Fork or something... but I am not sure. (They don't really name these things, and put up a sign at the top of each one like they do with regular runs. They are there, and you can ski them,
if you can
, but I don't think they want to encourage any drunken Texan frat boys to spread their brains across the hill.)
This is that run, from afar.
Here is an older picture of that run from another angle.
It's trippy in there. All those rocks stick up like huge knives or dinosaur teeth, as you can see from the older pictures.
Anyway, then I decided to end my day with a run up the tram and then down a run I had not done all season- the 1-2-3 Gullies. I hadn't gone there because the traverse from the tram is a bitch, and I have to unclip my bindings and hike, which royally pisses off the skiers... plus I hike right past my two favorite runs, Marx and Lenin, and they are always so inviting, I just drop in.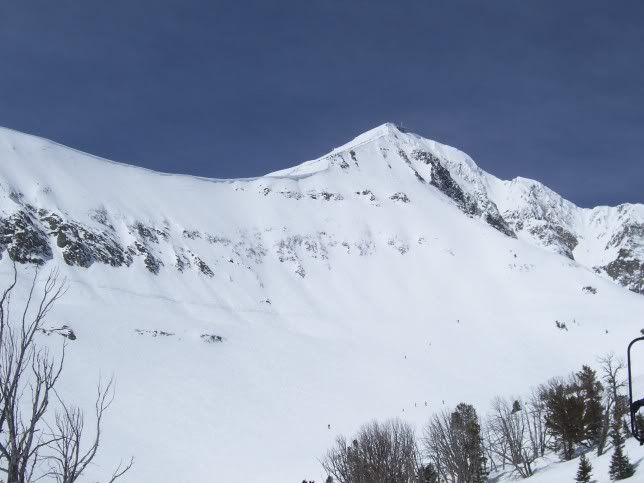 They are to the right side of that photo... we'll get closer here.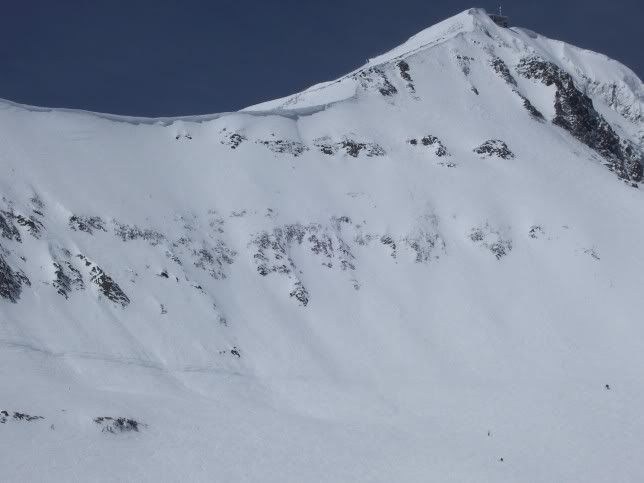 From the peak, you can see the gullies (kinda top right of the picture). They are steep, but not that bad. Obviously, you have to pay a little attention to where you are going, because those little rocks there are actually big rocks, and they aren't very friendly to snowboarders.
Here are some other pictures from yesterday.
You can actually see the 1-2-3 Gullies in this one.
I'm satisfied.
It was a great year.
Great snow.
I
really
enjoyed the powder days with Bells at the beginning of the season, before he left for Arizona. (They return in a couple weeks.)
I also enjoyed all my solo days.
I blew up two boards... which reminds me, I should post a picture of the one I broke.
I am excited for spring and summer. We're going to have a bunch of visitors. There will be backcountry adventures, hikes every week, and new places to explore.
It's been a year (actually, we have only been in Montana 10 months) of some huge changes for us. When you make those kinds of changes, there are always risks associated. In our case, those risks involved security. We gave up a very secure situation to come here- family, friends, social network, great jobs, money, all that.
We could have easily spent our whole lives right where we were... but I could close my eyes and picture exactly what I would be doing on a Wednesday in 2015.
That bothered me.
Even though we have only been here 10 months, I think we have both grown and changed a lot. Positive changes.
Sometimes taking a risk can be a catalyst to some really positive changes. Sometimes change can be scary and painful. Quitting everything you know and have worked for can be terrifying. Moving away can be sad. Tremendously sad.
I'd like to take a moment to write directly to my family and friends - we miss you. We love you. We
still
love you. We weren't leaving
you
. We don't hate the Dam or Wisconsin. It's my home. It's where I grew up. It's
me
, and it will always feel like home. I mean, you can take the boy out of the Dam...
We just had to do this. I'm sure it seemed like a crazy thing to do, and you may not have understood it at the time.
I hope, though, that through the words and pictures that you have seen here over the last ten months, you can at least understand a bit about
why
, and hopefully see some of that positive change reflected here.
Shit, I would have never started a public website like this in my old position. (Certainly, I did entertain a few of you with some colorful emails over the years, but nothing like this. I have found an entirely novel way to disrupt your work day and make you procrastinate.) Sure, it's just a stupid blog... but a hundred of you, from all over, check it every single day. So,
someone
must be enjoying it, besides the 4 people who comment. And I am truly glad you're enjoying it. I am, too.
For years, I was playing a role that wasn't me. Sure, it was a comfortable role. Lucrative. Prestigious, to a degree.
But it wasn't me.
We needed to do this.
We needed to be here.
Because, sometimes, you just have to see what's around the bend with your own two eyes.