In my dream, I was drowning my sorrows, but my sorrows, they learned how to swim...
Sort of had a hellish experience today. I was trimming Puck's nails.
Puck: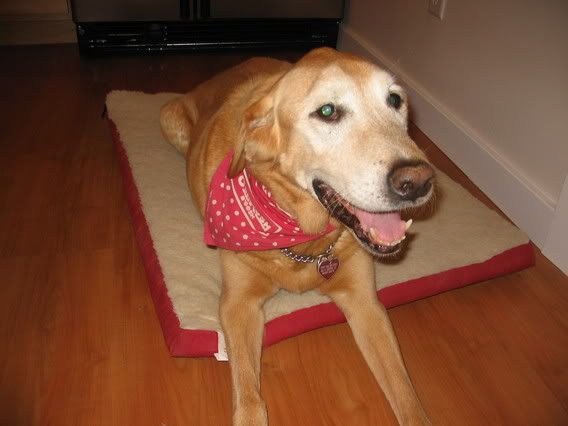 I cut one of them too short, and it started to bleed. And bleed and bleed and bleed. I felt awful. I am the sun, the moon and the stars in his eyes.
This dog would run through a brick wall for me. Well, OK, he would waddle up to the wall, take a leak and start to sniff around for me... but he's a senior citizen, so cut him some slack. I can honestly say that no human being in my life has ever or will ever love me as unconditionally as he does.
It was an ordeal to stop the flow of blood, because every time we had it staunched, he would lick it until it started bleeding again. Finally, I drove over to Petsmart and bought some styptic gel, which stopped it.
===
While I was running today, I am pretty sure I saw a bobcat in a meadow. It was a pretty good-sized cat with big ears and no tail. I have never seen a bobcat before. Even if it wasn't a bobcat, he was a bruiser.
The run of 70 degree weather has stopped. It has cooled off, and it has been raining, which means snow in the mountains. I have been steadily running since we moved here, but I am going to mix in some resistance training and yoga to get ready for snowboarding season.
I counted back, and I realized that this will be my 25th year of skiing or snowboarding. That's a lot of lift tickets, progressing from the modest bump that is Cascade Mountain, to the Upper Peninsula of Michigan in high school, then off to college, where I skiied New Hampshire, Vermont, and Maine. The first trip of many to Colorado occurred about that time, then Squaw, Mammoth and Big Bear in California, with trips to Mt. Hood Meadows and Bachelor in Oregon. Then, it was a series of great trips to Colorado, Utah, Whistler... and finally Big Sky, Montana.
This will be the first time in all those years that I have had a season pass at any one resort. Unbelievable.
===
I miss playing volleyball. Had a good run in Wisconsin for 8 years, and played on some good men's teams, and some good co-ed teams... not to mention some really fun pick-up. I had a whole group of friends that I saw once or twice a week at the games.
Like I have written before, I haven't made any real effort to make any new friends or get involved in any social outings. I have just been reading, running, writing, hiking, playing guitar, watching movies and
chillin'.
It is a whole new life to get used to... not any better or worse than before, just different.
Actually, that is bullshit.
This is a whole lot better.
===
Raise your glass to the good and the evil
Let's drink to the salt of the earth

Say a prayer for the common foot soldier
Spare a thought for his back breaking work
Say a prayer for his wife and his children
Who burn the fires and who still till the earth

And when I search a faceless crowd
A swirling mass of gray and
Black and white
They don't look real to me
In fact, they look so strange

Raise your glass to the hard working people
(Stones, "Salt of the Earth," off Beggar's Banquet. Know it. Learn it. Live it.)
==
We have some guests, Ashton and Demi, coming in on Wednesday. They are a lot of fun.
We have a couple excursions planned, and I will surely get the camera going. We are going to explore the Tobacco Root Mountains and find an undeveloped hot spring called Potosi Hot Spring to take a soak. You have to hike to get there.
There are a lot of hot springs around, but they are all developed. This means there is a structure and the spring is like a swimming pool.
It's a fine line, though. There is a proportional relationship between level of (un)development of hot springs and the preponderance of naked hippies.
Naked hippies are something I try to avoid at all costs.
===
Here is a picture of Hyalite Lake to tide you over. Right now, this scene is covered in snow....