Did you see him jump the garden wall? Sighin' down the wind so sadly.... listen, and you'll hear him moan. Talkin' bout the midnight gambler.
The one you never seen before.
==
What a grand day.
70 degrees and sunny.
As predicted, I did yoga for the first time in months. India has become quite proficient during the last two years of steady practice, whilst I was outside, running around, lo these many moons. I am amazed at what she can do.
I had her laughing pretty hard when I threatened to "shart" during some difficult poses. That has been my word du jour... I am all about the sharting these days.
She is much more patient with me than I deserve. She really put me through the paces. I hope to continue with it, despite the difficulty. I think it will really help during snowboarding season. Besides, running 30 miles a week doesn't really do wonders for my flexibility.
Then, it was over to the Co-op for a smoothie- blueberries, strawberries, banana, yogurt and protein powder. Damn it was good. Tasty
and
healthy in the same package? I love that place.
I drove through one of those coffee shacks for a double latte. They didn't have those back home, but there are dozens of them in this town. They are little shacks, maybe 6' x 8', and some high school kid sits in there, whipping up lattes and coffees for everyone who drives up.
It is a strange phenomenon, but a welcome one. You just wouldn't think a town of 30,000 would support 15 regular coffee shops and a dozen drive up latte shacks... but maybe when you throw in the 10,000 students at MSU, the 90,000 people living in Gallatin County who flock to Bozeman like moths to the flame, and about a million tourists that do the same thing... I guess there is economic justification for the myriad of coffee joints.
Those same market forces probably gave birth to the abundance of quality restaruants around here. Christ, we're in the middle of friggin' Montana, and there are three places to get sushi in town.
Properly caffienated, we tooled down the canyon. I have described the Gallatin River Canyon before, but one cannot understate the sublime beauty of this canyon.
The river flows north through a steep canyon and there are 10-11,000 foot peaks on either side. Occasionally, one side or the other will open up and reveal a canyon that delivers a tributary stream, like Swan Creek or Squaw Creek, to the Gallatin. The fishing scenes from
A River Runs Through It
were filmed where Squaw Creek meets the Gallatin.
The pictures below really don't do it justice, because the lighting wasn't great and I am not a liger, bred for skills and magic. I am sure a liger would have snapped some great photos.
We went down to Big Sky, ate lunch, and looked at some trophy homes.
These aren't trophy homes, but rather some ugly-ass condos in front of Lone Peak.
Unfortunately, the warm temperatures are melting the snow that fell last week. I had visions of ripping tracks on Halloween. Looks like I may have to wait until Thanksgiving. Oh well, more time for hiking.
We were originally going to hike Beehive Basin, which is to the right of the above photo. It was so pretty back in the canyon, however, that we opted to go back and hike there, right along the river.
These photos were taken about 25 minutes from our house... I timed it on the way back.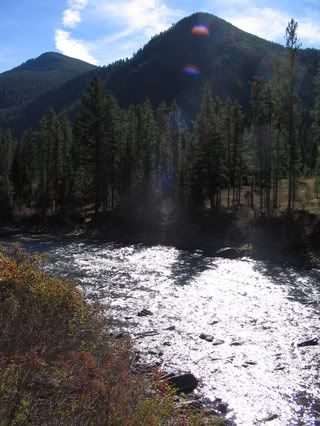 I was itching to wet a line and pull some rainbows out of the river, but that will have to wait until another time... I know they were just chillin', keepin' it real. We passed some huge holes, where I am confident some monster trout lurk.
There was nobody on the trail, which seemed weird for a Saturday.
Then I remembered it was Friday.
It felt like Saturday all day today. Then again, since we moved here, pretty much every day has felt like a Saturday.
It was a damn fine day. Perfect, in fact.
We have a hell of an excursion planned for Sunday, so check back for some more pictures. See you around...