The waiting drove me mad
You're finally here and I'm a mess
The show was in Grant Park. It was a gorgeous setting.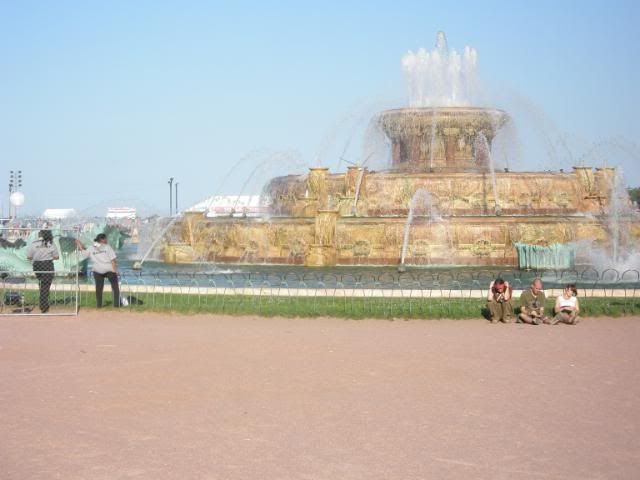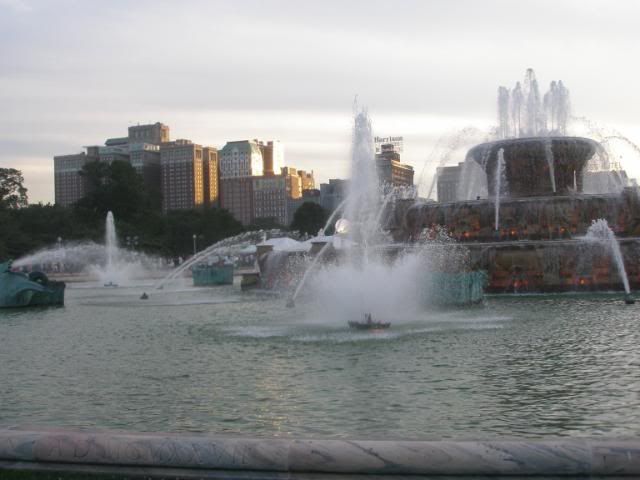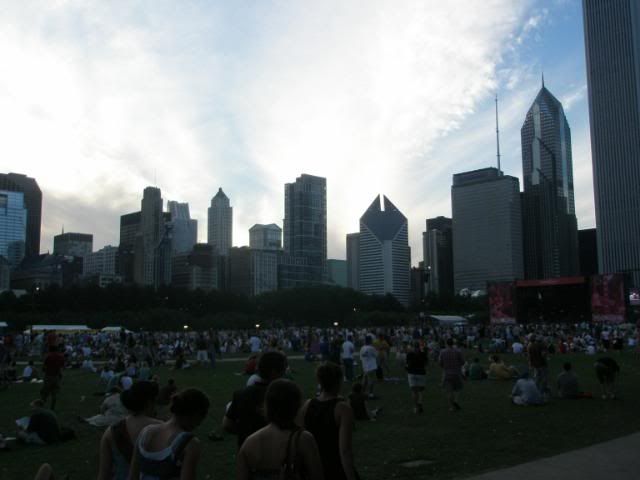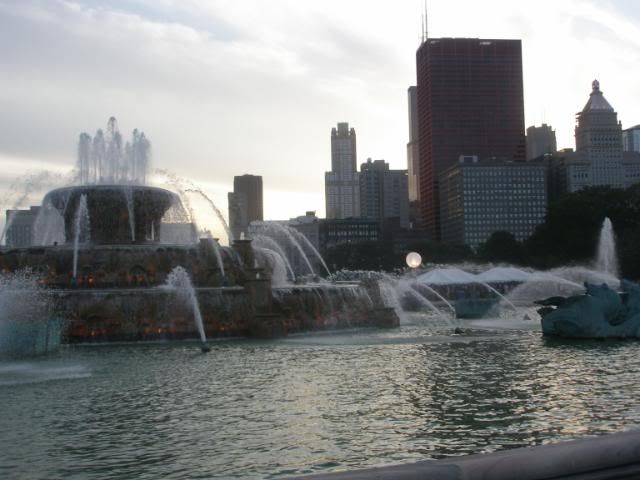 Stanette stood in line for coffee in the House of Blues Hotel right behind Patti Smith. No word on whether her armpit hair was braided, but she did resemble a witch, including the hat.
Day 1- The Black Keys, LCD Soundsystem, Daft Punk (who ruled).
The Black Keys:
They had someone signing for the hearing impaired on the side of the stage.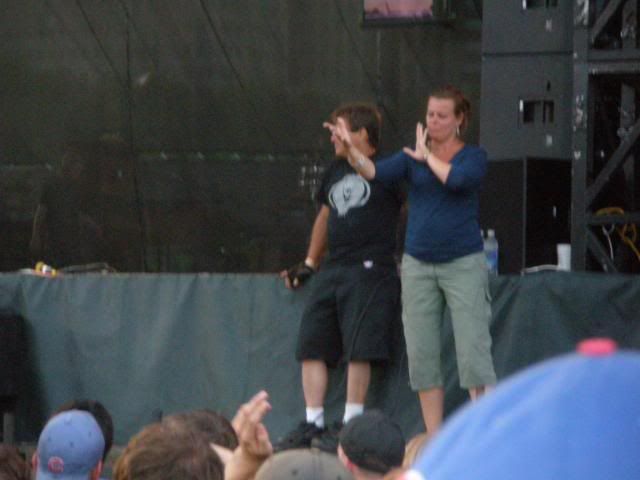 I have no idea why a deaf person would spend that much money and brave the crowds to, I guess, "see" music, but it was a nice touch. I think I would be home reading.
Daft Punk:
I can't overstate how cool the Daft Punk show was.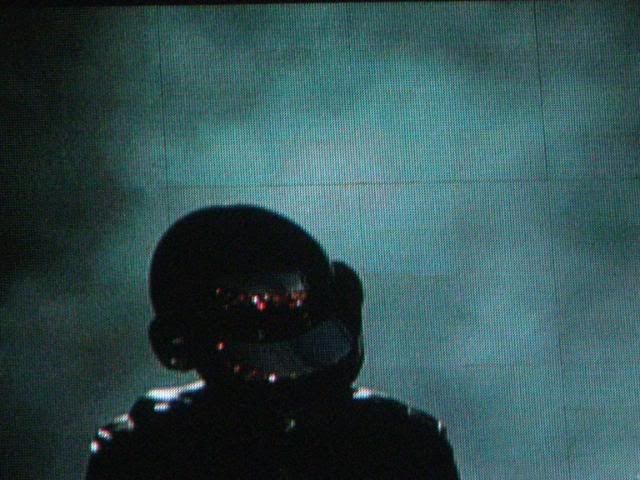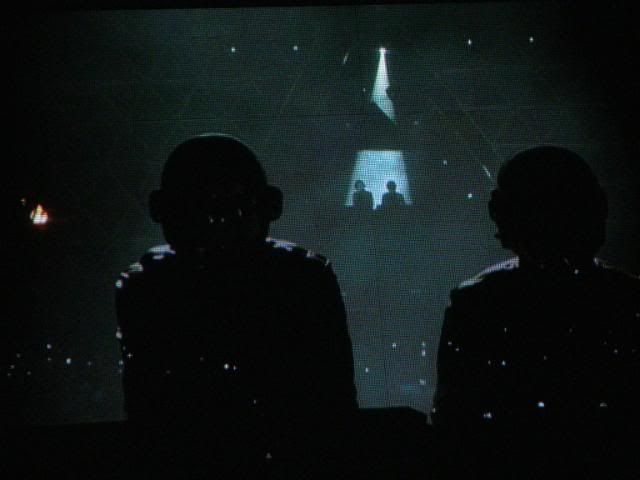 Sauron even liked it.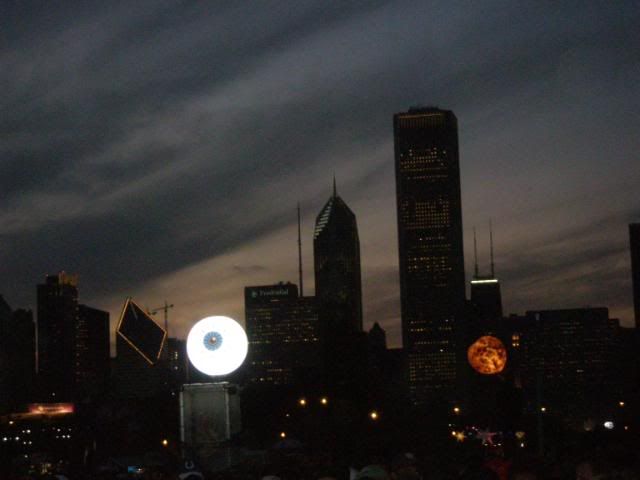 Leaving the show, I saw a disturbing statute? Painting?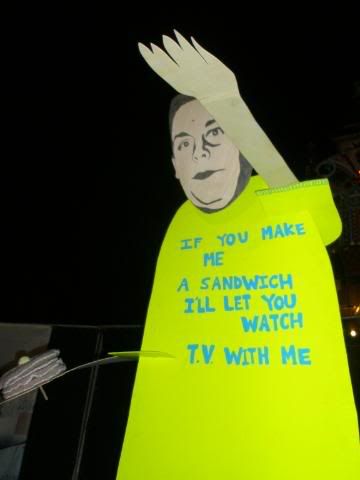 I also saw a cop on a Segway, which pleased me to no end. (Gob rules! "I've made a huge mistake.")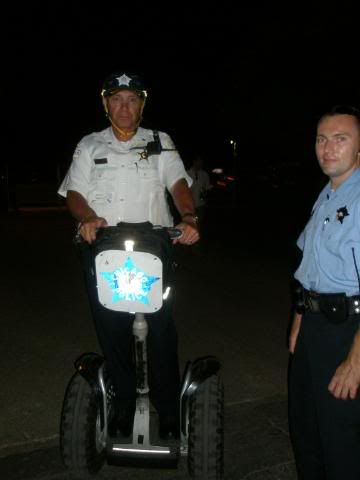 Day 2- Needed a break from heat and crowds, so we went to the Art Institute and Millenium Park, caught the Cold War Kids, and bailed. I went to a late night club show with the Black Angels.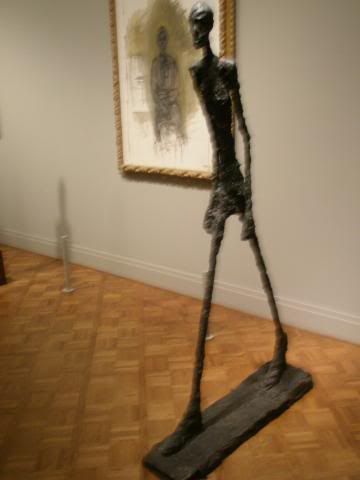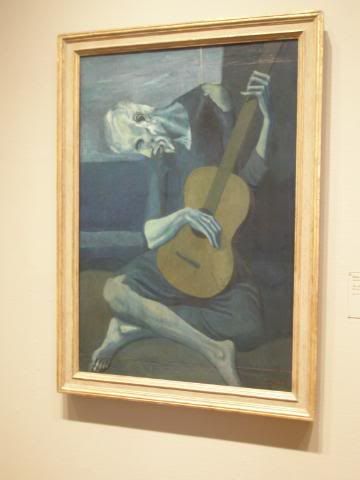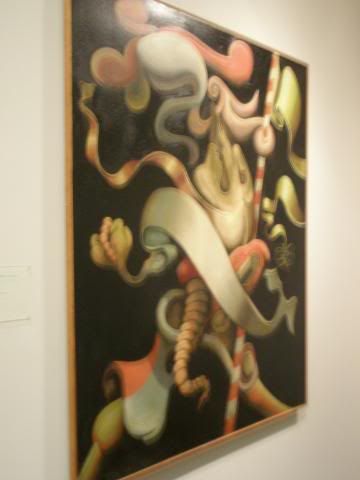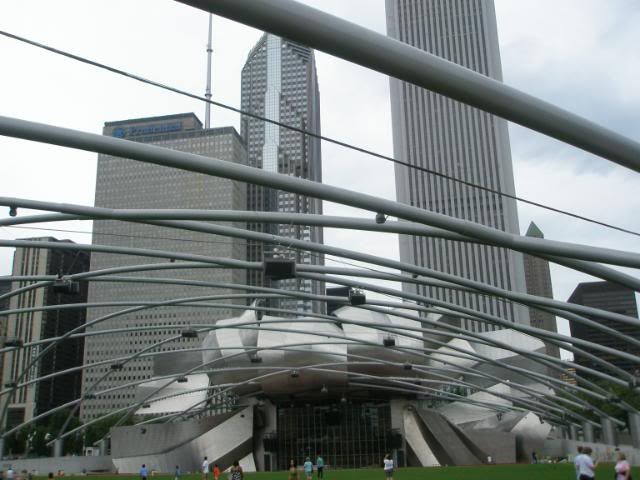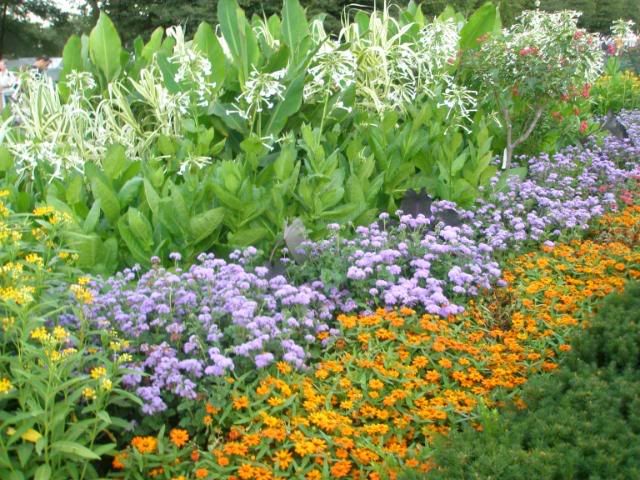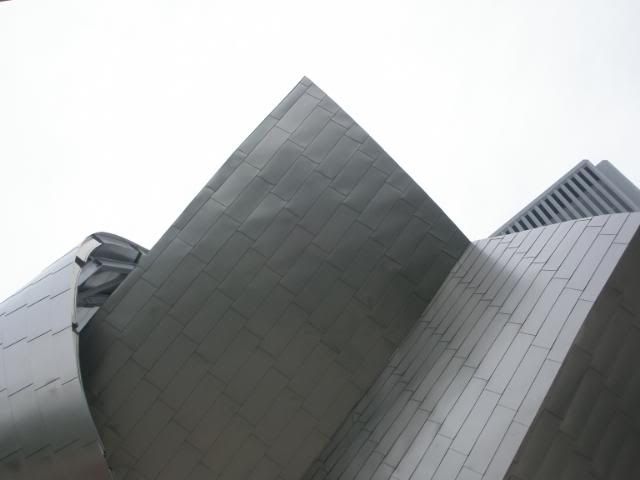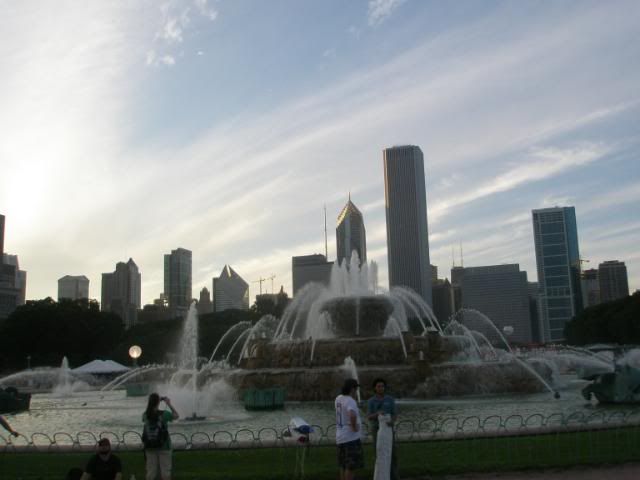 Day 3- Amy Winehouse, Kings of Leon (with Eddie Vedder for a song), My Morning Jacket (with the Chicago Youth Symphony), and Pearl Jam, who absolutely owned the festival.
We hooked up and hung out with Josh, Amy, Eck & Mrs. Eck for most of the day. I
had
to leave to comfy blanket and head into the sweaty, sweaty masses at the end of My Morning Jacket and weasel my way up close for Pearl Jam.
It was a lot like being in a sauna with 100,000 people, all jumping up and down. Except with Pearl Jam.
Amy Winehouse:
My Morning Jacket: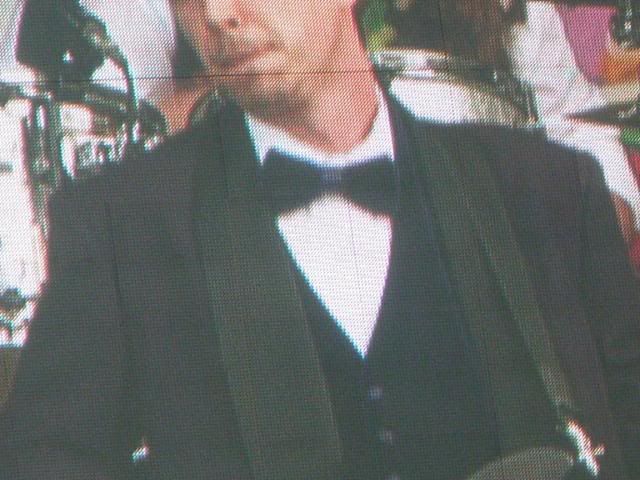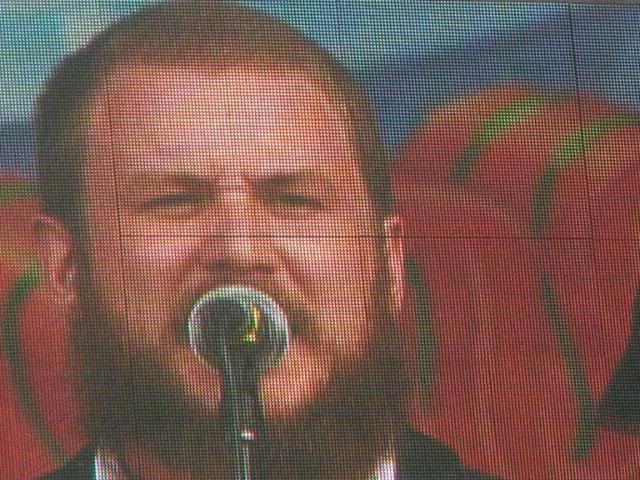 Pearl Jam:
SETLIST
Why Go, Corduroy, Save You, Do The Evolution, Elderly Woman Behind The Counter in a Small Town, Severed Hand, Education, Even Flow, Given To Fly, World Wide Suicide, improv: Don't Go BP/Amoco, Lukin, Not For You, Daughter/Another Brick In The Wall, State of Love and Trust, Wasted Reprise, Alive.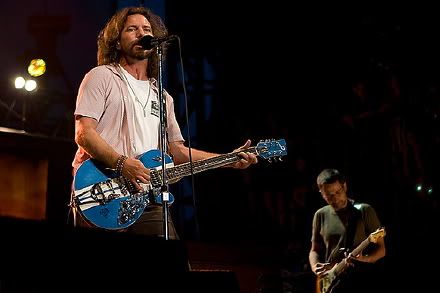 ENCORE 1: Betterman/Save It For Later, Crazy Mary, Life Wasted, Rearviewmirror
(Last two photos are googled from the show. It was very difficult to get any good photos being jammed in there with the masses.)
ENCORE 2: (new song) No More w/ Ben Harper, Rockin In The Free World w/ Ben Harper and "a bunch of people on stage," including Dennis Rodman and Lance Armstrong. Dennis picked Eddie up and put him on his shoulders.
Here is a little video of Corduroy:
Afterwards, we were walking out, and I was telling Josh he was "being very Undude," and some guy standing there drinking beer yelled out to us, "Nothing is fucked!"
That made my night. (It is an exchange from the Big Lebowski, for the uninitiated.)
We went for a nightcap at the House of Blues, because we had free admission to the Foundation Room, thanks to the hook-up from Eck.
John Popper (who I don't really care for) was playing with a bass player, drums and a DJ. It was OK, but the cool part was getting the VIP tour from the bartender because it totally dead in there. We wandered around the Abraham Lincoln seats, private dining rooms, etc., then called it a night.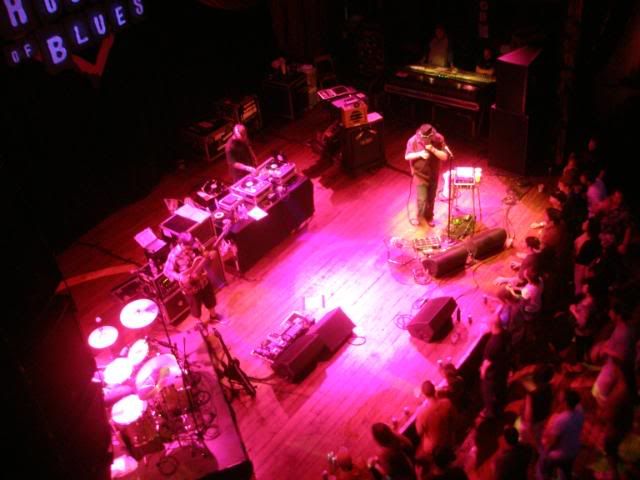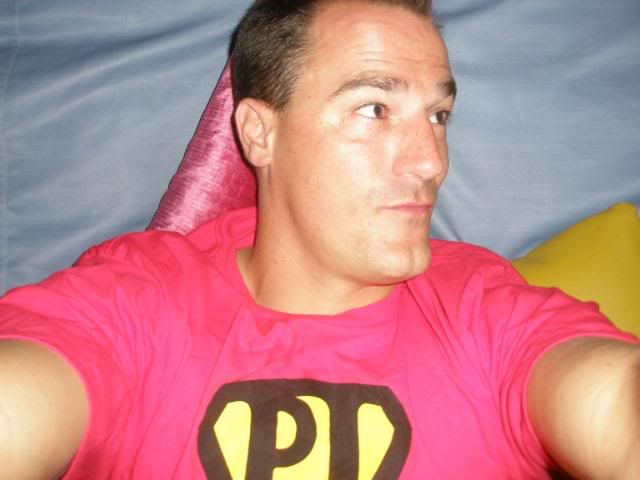 It was a good trip.
Labels: Lollapalooza