Magically bored on a quiet street corner, free frustration, in our minds and our toes.
Saturday, the Bells' had India, my dad and me over for lunch. Their garden is prospering like crazy.
The new American Gothic: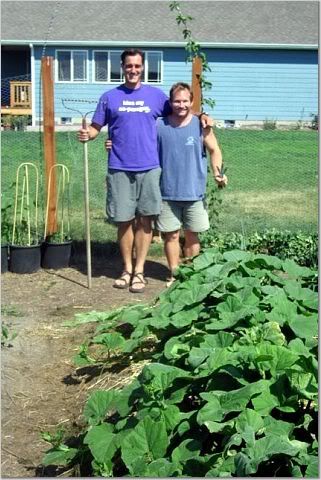 Had lunch with McC today. He's the developer who built our houses. He's got a lot cooking. We talked a little business, talked a little Bozeman, and talked a little shit. Nice guy.
Tonight, India and I went to the Emerson Cultural Center to see a screening of the new documentary by Jim and Jamie Dutcher, who were there to talk and answer questions. They lived with a pack of wolves in a huge enclosure in the Sawtooth Mountains of Idaho for 6 years. The documentary was great, and they had some incredible footage of pack dynamics. The film is called
Living With Wolves
, and they ahve a new book out by the same name. I read
Wolves At Our Door
, a previous book by the Dutchers on the same subject. (Also a documentary by the same name... same subject matter, but shorter than the new film.)
Watch for the documentary on the Discovery Channel or Animal Planet if this sort of thing interests you. It was fascinating. If you're interested, order up
Wolves At Our Door
from Netflix.
Tomorrow, the Sweet Pea Festival kicks off in Bozeman with a Taste of Bozeman. India, Mrs. Bells and I will mosey on down to sample the fare from local restaurants.
Then there will an arts and crap show and things for the bambinos on Thursday.
The Subdudes will play a free show Friday, which we will attend.
Saturday, there is a 10k race, another arts and crap show and a parade, but I will miss that. Instead, I will be floating down the Madison with Double B from the BDC fly-fishing.
Ah... shaping up to be another fine week in Montana.