Summer nights and long warm days
Are stolen as the moon falls
My mirror shows another face
Another place to hide it all
Another place to hide it all

And I'm lost, behind
The words I'll never find
And I'm left behind
As seasons roll on by
Kobe Bryant... how clutch can you get?
The tying basket on a drive with .7 seconds left in regulation, and then the winner as time ran out in O.T.
Lakers up 3-1 over the heavily favored Suns.
NBA action, it's fan-tastic, kids.
It was a rainy day today.
I just got a 90 minute massage and I am mellow like a bowl of jello.
Being married to a certified massage therapist has its benefits.
The animals let me sleep until 7:25 this morning.
I made some coffee and played guitar for a little while.
I dropped a big load of paper and cardboard off at the recylcing center. Unlike Wisconsin, there is no curbside recycling here. The population is just too sparse to justify the cost. Too bad, because a lot more people would recycle if they came and picked it up at your house.
Only 917,000 people live in Montana, ranking 45th among the states, just ahead of Delaware, South Dakota, Alaska, Vermont and Wyoming, respectively. Yes, Rhode Island has more people than Montana.
Those 917,000 people are spread out over the 4th biggest state, by area, behind Alaska, Texas and California, respectively.
After taking care of the recycling, I drove over to Bells' house to water their plants. They come back Friday.
When I got home, I walked the dogs.
Puck is really having a hard time getting around.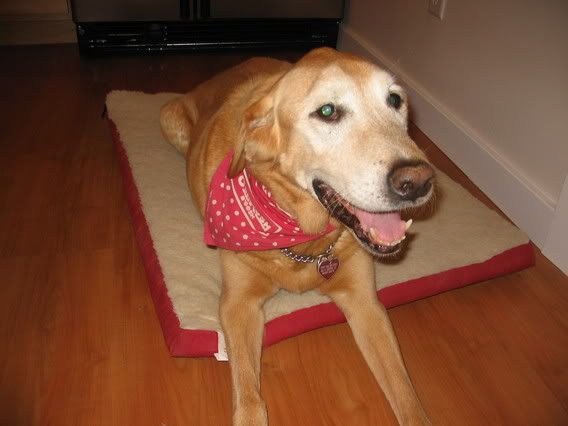 And I am having a hard time watching him have a hard time.
He can still walk, but he is really, really slow and stiff. He's got arthritis in his back and front legs.
He's over 14, which is around 100 in human years.
He's really a very sweet old man, and I love him dearly. And he loves me back... oh, does he love me back. I'm the sun, the moon and the stars in his universe.
Everyone should experience that kind of love from somebody or something at least once in their lives.
My little buddy.
Love you, grandpa.
And I'm lost, behind
The words I'll never find
And I'm left behind
As seasons roll on by