In the pines, in the pines, where the sun don't ever shine, I would shiver the whole night through.
Well, howdy. I'm back, mostly intact.
The trek in was rough. We climbed up a seldom visited drainage called Six Mile Creek, located just south of Chico Hot Springs in Paradise Valley. I was with a Forest Service crew, led by my childhood buddy, Bells.
There he is:
This crew was comprised of three guys, and Bells' dog, Shaman. They visit "plots" in National Forests and Wilderness and record data. These plots are visited once every five to ten years. A plot is .25 acres. The center is marked with a steel pole, and these guys have to record everything within a 25 foot radius of that pole.
They record the different trees, plants and other vegetation. They use a laser to measure the height of the trees, and they take core samples from the trees to determine age. If there is any disease or change from the last recorded visit to the plot, they record it. (My favorite code was "animal." I just imagined a pissed, horny moose taking down a tree.)
The plot can be anywhere, and is usually on the side of a mountain. Last week, they had a plot that was located on a cliff that had collapsed.
These guys bust their asses, carrying heavy packs with work gear and camping gear.
The trick to a backcountry trip is that you want to bring everything you need, and bring nothing you don't. You don't want to be carrying an unnecessary ounce of weight when you are hauling a 45 pound pack at elevation, over trees, crossing streams, or on a perilously narrow sidehill trail. But when you get to your campsite, there are definitely some luxuries that you long for...
My pack: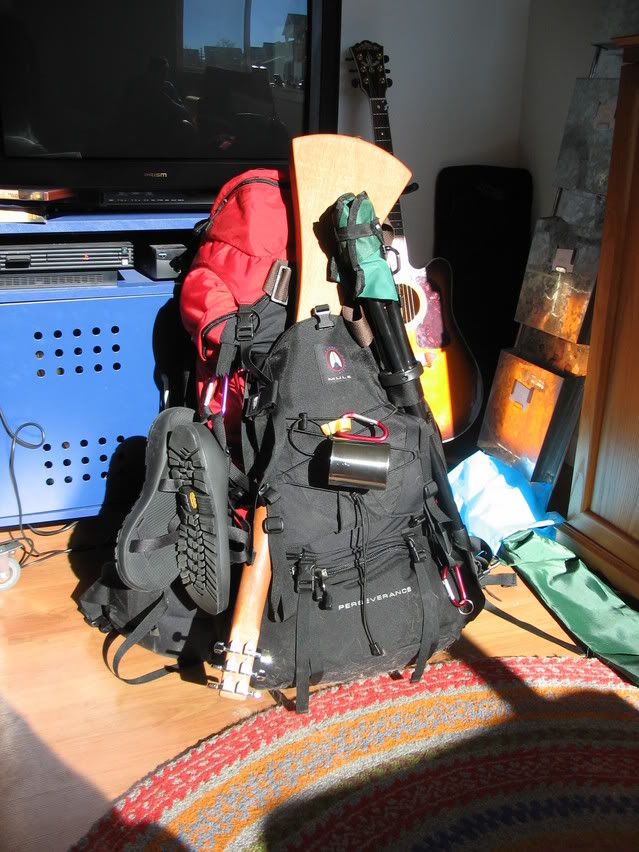 The two "extras" I carried were the guitar and the camp stool, and both were used extensively. Three out of the four of us played, so we were treated with a lot of music. I also brought a book, but I don't consider that an "extra."
The "necessities" I carried were a tent, sleeping bag, thermarest pad, food, a stove, a water filter, two nalgene bottles, a leatherman, a lighter, thermal underwear, rain shell, a fleece, and a pair of sandals.
We hiked up Monday and found a cool, little campsite near the stream, which babbled away.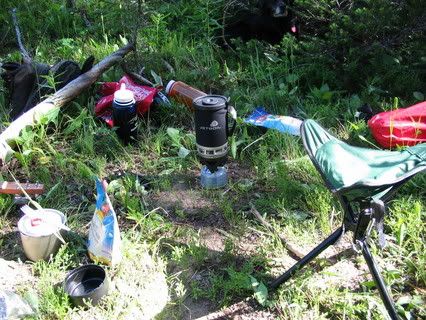 Mmmmm. Freeze-dried barbecue beef.
My abode for a couple nights:
The fire.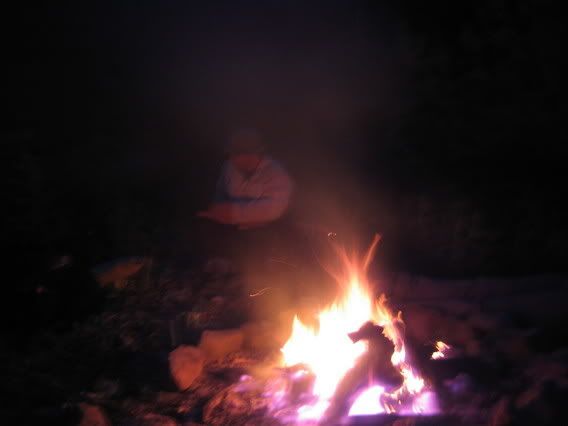 There is a picture of Shaman with the campsite in the background.
We put on sandals and hiked up the streambed, looking for a trout hidey-holes, but we didn't find any because the water was too low. It sure was purty, though.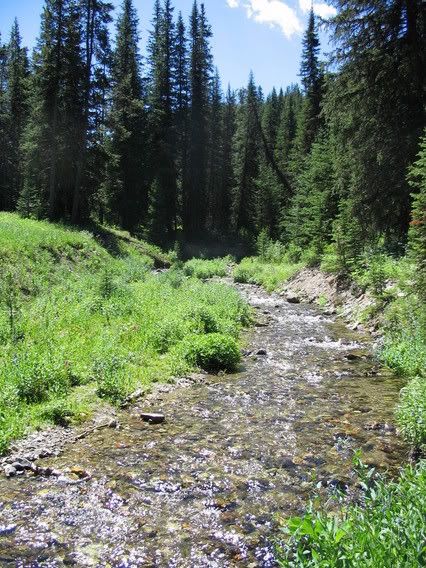 I saw two huge piles of shit on the trail, which Forest Service Personnel identified as "bear shit," thus answering the age-old question as to where bears shit. Despite the smelly evidence to the contrary, the biggest examples of local wildlife I saw were horseflies, but this morning, as we were packing up camp, Shaman smelled something that was upwind of us. She went crazy barking and running around.
There is Shaman... she carried a pack, too.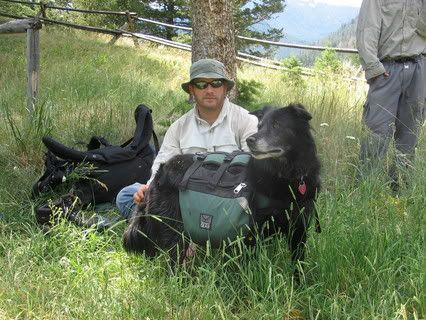 I explored the trail, and did some bushwhacking to interesting looking areas, but the best views were in the lower meadows.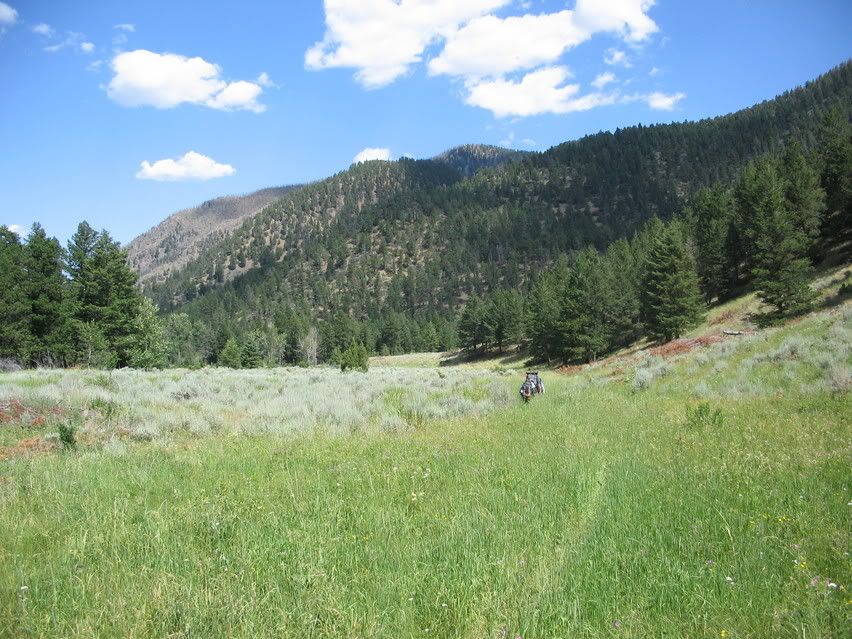 It was fun, but I am happy to be back, looking forward to a bed and a meal that isn't served in a bag.