It's beginnning to look a lot like Christmas...
I know I have written a lot about the weather lately, but I spent most of the evening reading a thrilling treatise on asset allocation. While I enjoy that type of thing, it just isn't worthy of discussion here at the Dude Abides...
So I woke up, and what to my wondering eyes did appear, but a sleigh, and eight reindeer. Not really, but it does feel strangely like Christmas. Not in the dad-got-drunk-again-and-gave-me-a-pack-of-Camels-and-a-"bottlecap collection" sense, but in the little kid, holy-shit-it's-christmas-if-there-is-an-x-wing-fighter-under-the-tree-i-can-die-now-because-i-am-so-fucking-happy sense.
Out the front door of our hacienda: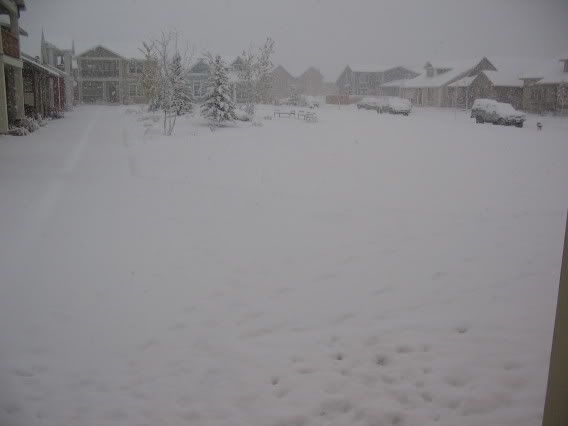 There are a couple inches on the ground and more coming down furiously. I would guess it is a foot deep up at Big Sky. I now must clean drool off my keyboard. But it's happy drool.
When I let Barney and Puck out, they immediately shed their geriatric personae and frolicked like puppies. I think they could feel the Christmas thing, too.
Visions of sugarplums are dancing in my head...
===
And a shoutout to my mom:
I love you mom. Good luck today. Talk to you soon.