Rocky came in, stinking of gin...
I received a query regarding the titles of these blog entries... They're all song lyrics. I'll keep doing that until they either run out of lyrics, or I run out of things to say.
--
Wednesday, we go on a power trip to the Quad Cities to say our farewells to India's grandparents.
--
This is Dan, Will & me at Vail a while back.
Good times. Good times. Will lives in Gig Harbor. Dan lives in Napa.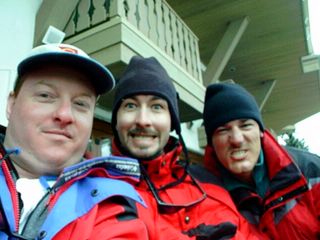 --
Watched "The Aviator." I give it a B-. Nice plane crash, good depiction of the urine-storing, hand-washing, OCD freak show. But about a half hour too long at 2:45.
--
I hope you all have a lovely day.
I'll be adjusting to unemployment. Maybe taking lessons from Scooby.