I can walk down the street but no one's there
Though the pavement is one huge crowd
I had forgotten about the Red Sox game, so we didn't go to the hot springs.
(Game 7 tonight, baby!!!)
My buddy Jon and his wife Ceci came over for the homemade pizza. Jon has a great story. He is basically "Rudy." He grew up in Pocatello, Idaho and went to Duke for college. In 1986, his freshman year, he walked on and made the Duke basketball team.
If you know anything about college basketball, then you know that is a pretty cool deal.
(By the way, he is not the famous Duke basketball player I had lunch with a few weeks ago, but he is the connection to said player.)
Vess, here is the 'za: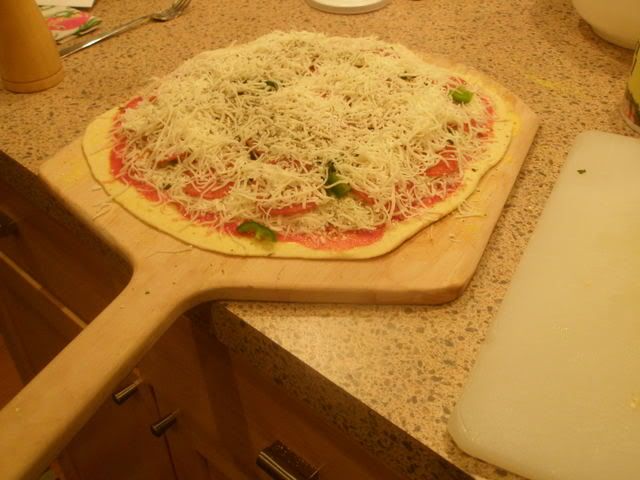 I mixed dried basil, oregano, sage and marjoram in the dough. (I just use a boxed mix from the grocery store.) I used cornmeal instead of flour to coat the wood board and pizza stone.
Once kneaded and rolled multiple times, I spooned on some tomato sauce, and sprinkled on some crushed red pepper.
Then a layer of 8 oz of mozarella cheese.
Then onions, red pepper, green pepper, pepperoni, fresh basil leaves, sliced grape tomato and a few jalapenos.
Then about another 4-5 oz of mozarella on top of that. You know, to keep the ingredients warm. In case they got lonely only touching cheese on one side.
Cook on the stone at 425 for maybe 12-14 minutes.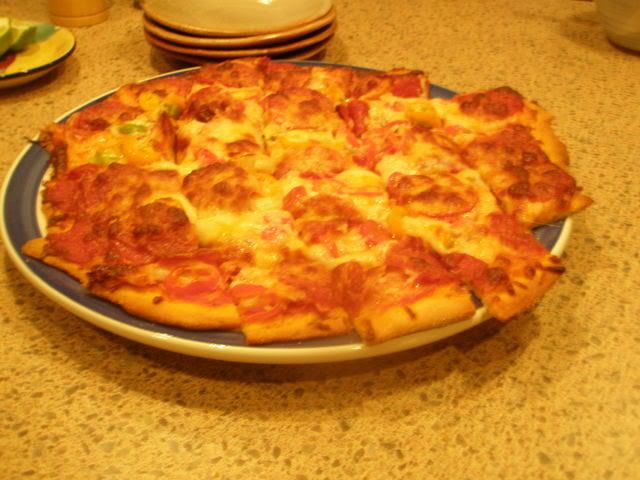 Bada bing.
--
--
OK, here is how today is going to go down:
- Watch some more Sopranos. I should mention that Stanette began watching the Sopranos with me during the final half of the final season. I was on board for the whole ride. Over the last couple months, we have watched every episode from beginning from Netflix.
We're on the last season. It has been a full immersion experience, and I now speak with a Jersey accent. I have considered whacking people who annoy me. I say Christofa instead of Christopher.
By the way,
The Wire
comes close, and
Six Feet Under
was pretty damn good... but
The Sopranos
is the king of the hill. There has never been a better television show.
Period.
And, yes, I thought the final episode was great, particularly when you go back and watch the earlier seasons. They pull
everything
together.
- Go to the gym, run for an hour or so in front of some NFL football. Snowboarding season is around the corner. The mountains got a bunch of snow yesterday. I am excited. This year, I have a combination pass for Big Sky and Moonlight Basin that allows me access to some super-hairy chutes.
So I have to be in good shape, because the pucker factor is huge, as it is a "no-fall" zone.
- I mentioned pulled pork.
It is underway. That is a pork loin (usually we use a pork shoulder or a pork butt if you want to go big... we just happened to have a loin), rubbed with thyme, coarse salt, and cracked pepper. Throw in a packet of onion soup mix, a chopped onion and some white wine.
Let it cook on "low" in that muh-fug all damn day. Right around the first pitch of the Sox game, after 7 or 8 hours, take it out, pull it apart (it should be pretty much falling apart by then), and put it back in the crock pot on "warm" with a half a bottle or so of your favorite barbecue sauce.
Toast up some buns, serve with Stanette's patented broccoli slaw and root for Dice-K and the Sox to win Game 7.
- Oh, for kicks today, I am going to learn to play "Another One Bites the Dust" on my bass.
Why?
Because that song rules.
Last night we rocked a pretty killer version of "I won't back down" by Petty, broken down completely and filtered through Johnny Cash and Pearl Jam.
I tell you, everything sounds better when she sings it.
So there you go.
And Vess?
Yes, dude.
The Three Musketeers Bar always has been and always will be Bullshit.
You can't polish a turd, dude.